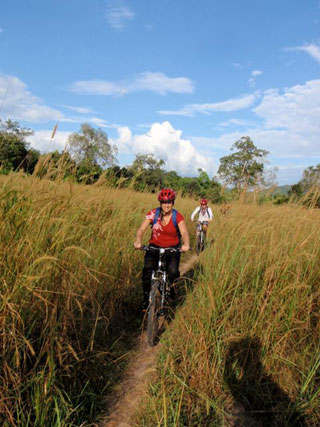 Biking Cambodia launched it's cycling programs back in 2005 and was the first tailor-made tours specialist in the area around the temples of Angkor. At first, expanding itineraries to places outside Siem Reap was a slow process because of the lack of local infrastructure and other difficulties (inaccessible roads, land mines, etc.), but our range of activities grew then very fast from 2010 on. We are now able to offer all kinds of different destinations designed for all levels of cyclists and to provide all types of cycling experiences in Cambodia. In the last few years we have also expanded our activities to Laos and Vietnam by working with reliable partners. Coming from or going to Laos, Vietnam or Thailand by bike is now a real option for those who have time…
PEOPLE ENJOY OUR TOURS
Our local knowledge makes all the difference. We review and update regularly our tours and we always adapt itineraries according to the local conditions and the needs and expectations of our customers.
If you have a specific wish and you cannot find among our range of itineraries the tour that you are looking for, just let us know. We can organise tailored-made tours just for you, from 2 to 12 people.
Overview
Biking is the ideal way to discover Cambodia and to get an accurate image of the authentic Khmer culture. We show you the real world of daily life and take you off the beaten track into the heart of the country. You can experience places of visual, natural and historical interests and we offer customised private tours for small groups which allow for more spontaneity by stopping at interesting places without having to be concerned about keeping up with a large group. Our cycling programs give the chance to witness the varied facets of the ancient Khmer empire with experienced guides but also to get a glimpse of the Cambodian daily rural life.
When visiting a foreign country, it is always best to find the right professionals who know what they are talking about and who can be relied upon to show you the historical sights, the country, and to guide you to discover the people's customs and language. Last but not least, you also need a secure and safe environment that we are able to provide.
BIKING CAMBODIA is probably the only local tour operator that can offer you all you need to fulfil your holiday requirements and to have an unforgettable experience.

OUR MISSION
Our mission is to inspire people to break free from their comfort zone and to make their next adventure a reality.
Our Quality Equipment and Support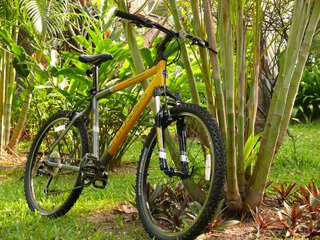 We have a large range of mountain bikes equipped with quality Shimano breaks and gears with front suspension. Cyclists from 120 to 200 cm in height will be able to find bikes that suit them. As for children, we provide you with baby seats or trailers that can be attached to an adult's bike.
Our bikes are always fully serviced before a trip.
We like the versatility and durability of the mountain bike as it has been designed to cope with different types of terrain and riding. Even on our road trips, as the asphalt is often broken and roads can be unpaved with occasional sandy sections, mountain bikes are the most suitable means of travelling. They also have the necessary gears to cope with hills.
Spare parts and tools will follow you all along the tour in the escort vehicle.

Biking Accessories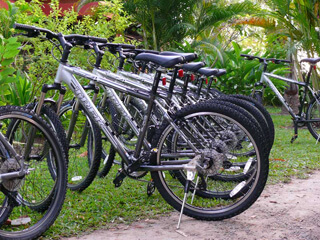 If you are accustomed to mountain biking, bring your own gloves, helmet, sunglasses, shoes and biking shorts. If you go cycling only occasionally, normal running or cross-country shoes will also do (hard-soles are recommended). Furthermore, we recommend you to wear light cotton shorts. Helmets are mandatory and can be provided. We also provide you with a small bag (which can be attached to the bike) for your drinking water and small accessories.
Our Guidelines and Recommendations
Bringing your own Mountain Bike
You would like to bring your own bike? No problem, but make sure that it is well serviced. We recommend mountain bikes for our Adventure Tours, but routers are also suitable for the temple circuits. Rigid forks will do fine on most tours, but thin-tired racing bikes are not adapted. For all off-road trips, mountain bikes are the only suitable bikes and front suspension is recommended.
 
Your Personal Security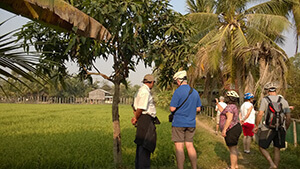 Our guide is permanently at your side to help you during the tours. The driver and the cycling guide stay in contact with our office should any problem occur.
 
Food and Accommodation
This depends on the programme you have selected. Meals are eaten at local restaurants and we also provide our own cook when visiting remote places. There is always enough food available which is very important for a biker. The main meals are served with rice and we eat lots of vegetables. Drinking water and fruits are available during all rides. Accommodation depends on the programme you have chosen; it can be a guesthouse, a comfortable hotel, a bivouac or sleeping in a house with the inhabitants.
 
Who can Go Cycling?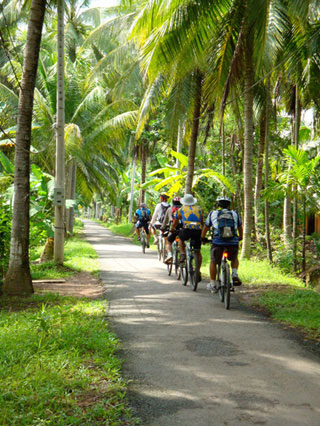 Anyone in a good physical condition can participate in our tours. If someone feels tired, they can rest in our escort vehicle. Your belongings are also kept in the accompanying van so that you don't need to carry too much weight.
Health and Accident Insurances
Personal insurances must be contracted by you in cases of accident, money loss, bodily injury or death.
Contact Us for more information.